How to Read Food Labels



The ingredients on food labels are the most important items you will read on a product. Some are so small you can barely read without glasses.

Reading labels are confusing and very misleading. It's no wonder most people don't read the small print. Most people don't read food labels, just the large front labels, exactly what manufacturing and food industry wants you to read.

Here are just some examples of what you see on the front labels: fortified with calcium, nutritional, help reduces cholesterol, no fat, low sodium, no artificial coloring and the list goes on.


You need to understand and interpret these ingredients and nutrition information on food labels before going shopping. You need to know if the products have any added ingredients such as Food Additives. If the list of ingredients is long, the product will have no doubt food additives in the product, and you're risking your health by eating it. When you read a label and see "spices", "no artificial ingredients", "no preservatives", "all natural ingredients" and "real fruit flavors" -- BEWARE!!

Statements like this DO NOT mean there are no harmful ingredients in the product. The manufacturer hopes you'll think there are no harmful ingredients, but as you will see from the following example, it's not true.

Soup example: A well-known soup company has these ingredients in their chicken noodle soup. I typed this right off the label:

Chicken Stock, cooked chicken meat, carrots, enriched egg noodles (wheat flour, egg white solids, whole egg solids, niacin, ferrous sulfate, thiamine mononitrate, riboflavin, folic acid), celery, water, contains less than 2% of the following ingredients: Modified wheat starch, salt, chicken fat, monosodium glutamate (MSG), modified food starch, sugar, soy protein concentrate, onion powder, flavoring, sodium phosphates, spice extract, dehydrated parsley, chicken flavor (contains chicken stock, chicken powder, chicken fat), dehydrated garlic, spice, beta carotene for color.
Phew!!! 3 mins later.

Here is my chicken noodle soup:




Organic chicken breast
Organic Carrots
Organic Celery
Onion
Oregano
Basil
Pepper
Sea Salt
Whole Wheat Extra Wide Noodles
My ingredients in my soup took only
30 seconds
to type and the ingredients of the can soup took over
3 mins
.
This soup label has a long list of unwanted
food additives,
that don't belong in your soup. Here are few explanations of some of the ingredients in this soup:
Thiamine mononitrate (synthetic Vit. B1) – false sense of nutritional value
MSG – flavor enhancer
Modified food starch – a thickening agent
Soy protein concentrate – a filler
Sodium phosphates - buffer


Here is another example of food labels: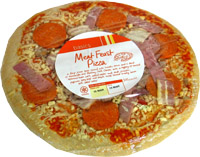 In this pizza, the list shows that the two biggest ingredients are wheat flour and water. For the other main ingredients, the company gives a percentage (%). The product is 7% tomato, 6% cheese, 5% ham, 5% Pepperoni, 4% Monterey Jack cheese, 3% spicy beef and 2% bacon.



Percentages can sometimes be quite hard to imagine. So here's what they look like in a picture. The long orange rectangle represents all the ingredients in the pizza (the full 100%). The colored bars on the left show you the proportion of the total pizza made up by each type of meat - ham is 5%, Pepperoni is 4%, beef is 3% and bacon is 2%.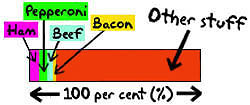 ---
UPC Codes on Produce

Do you know what it all means?
Have you ever notice the food labels on your produce – fruit and vegetables? Produce now carry a sticker called "price look-up codes (PLUs). This tells the clerk the price, but not only that, it can help YOU. These stickers tell you how fruits and vegetables were grown. There are more than 1,300 PLU codes currently assigned to produce. Here is what they mean:
You would have either a 4 or 5 digit codes. Below is a chart that will help you identify how produce is grown.
| | | |
| --- | --- | --- |
| Organically | Conventionally | Genetically Modified |
| 5 digits | 4 digits | 5 digits |
| Starting w/ no. 9 | Starting w/ no. 3 or 4 | Starting w/ no. 8 |
i.e. A conventionally grown banana has a PLU of 4011, an organic banana is 94011 and GM banana is 84011.
To see a database of PLU codes, go to www.plucodes.com,

The Healthy Eating Guide

Also, check out our friends at The Healthy Eating Guide for more information on how to read food labels, and also some great easy healthy recipes and other healthy eating guidelines and tips.
---
As you look for healthier foods, you can easily find the right products just by reading nutrition food labels. Here is a summary of reading a nutrition fact label.
A serving size is a measured amount of food or drink, such as 2 to 3 ounces of meat or 1 cup of milk.
Serving sizes are standardized so that nutrient levels in each serving are comparable. Consumers and dietitians may use serving sizes to determine how much of the recommended daily levels of certain substances (vitamins, minerals, fats, calories, cholesterol) a particular food represents.
Serving sizes may vary depending on how certain foods are prepared (e.g., raw, cooked, canned).
Serving sizes should not be confused with portion sizes or helpings of food, which are the amounts of food typically served or eaten during a meal or snack.
Portions can vary from meal to meal or person to person. Although the terms are sometimes used interchangeably, serving sizes are usually much smaller than portion sizes.
Most foods are sold and consumed in larger portions than is recommended by government standards. For example, the average bagel consists of two serving sizes, pasta is almost five servings and a steak may be two and a quarter servings.
---