Is Organic Baby Food
Better than Regular Baby Food?

"Choosing to feed your baby organically may be the single most important thing you do"
Getting back to the real question:
Is Organic Baby Food Better than Regular Baby Food?
Absolutely and here's why:
The growing concern about the quality of food that we feed to our children means that more organic food for babies is being sold than ever before. Sales of organic produce now account for half of the entire baby food market.
Here are several good reasons to feed organic baby food to your children.
Babies' bodies are much more vulnerable to pesticides because their brains immune and detoxification systems are immature and in a state of development.
Pound for pound babies eat two to four times more vegetables and fruits than adults and so are exposed to a higher proportion of possible contaminants.
The health effects of chronic low level exposure to pesticide residues are still unknown.
A report, "Pesticides in Children's Food" by the Environmental Working Group, concluded that the largest contribution to a person's lifetime risk of cancer from pesticide residues occurs during childhood.
Here are some real facts:
The amount of pesticide that's in non-organic baby foods are based on 'acceptable' levels for adult consumption. As for babies and young children, their underdeveloped organs and systems are at greater risk which makes them more vulnerable to toxins.
A baby's digestive system and immature kidneys are not as proficient at excreting harmful substances, so they may circulate in the body longer.
No one yet knows what effect genetic modified engineering may have on food products and the health of those who consume them.
Baby food that is organic is produced without genetically modified ingredients. So the best way to protect yourself and your baby from possible problems is to choose organic.
Even though the American Academy of Pediatrics (AAP) says organic baby foods are no safer or more nutritious than other foods.
How in the world can they say this, just because they say it is a small amount, why would anyone give ANY amount of pesticides to their baby.
Please BUY Organic baby foods, they are produced without conventional pesticides, antibiotics or growth hormones. Organic baby food can limit your baby's exposure to pesticides and other potential contaminants in foods.
Warning: Three of the baby food brands who use GMO, DHA, and ARA: Earth's Best, Happy Bellies and Bright Beginnings.
How about the Cost of Organic Baby Food?
This is a question on every parents' mind – how much will it cost me.
My answer to them – its priceless because your baby's life is precious and no amount of money will take that away...so you need to get creative and stretch those dollars when it comes to feeding your family.
I am sure, though, you agonize over which organic baby food is worth the extra cost? Being a mother of 19 years, I can tell you that the baby food industry drastically changed since the 1990's. Organic foods are in demand more and more, and lucky for new moms, the market has several choices available. Check out Gerber Coupons to find great savings.
However, the cost of baby organic food, unfortunately, is not yet competitive with conventionally grown foods. However, the long-term savings found in good health and a clean environment can more than offset this cost in the long run.
There is uncertainty about the safety of conventional food and this uncertainty is driving parents, especially new or expecting mothers to switch to organic food. Many are even making their own baby food from organic ingredients.
Homemade Baby Foods
Many parents don't realize that making organic baby food at home is a simple and economical plan to provide your baby with the best in quality, nutrition and taste. It makes it easy for you to ensure your child gets the best start possible. Making baby food using fresh, all-natural ingredients has many benefits.
Benefits of making organic baby food at home include:
Increased nutritional value which is essential for baby's health. Vitamins and other nutrients are critically important to your baby.
Elimination of all additives in baby's diet. Preparing food at home eliminates chemicals from your baby's diet
Great taste, smell & color. Have you compared fresh green peas to a jar of pea baby food? Even though they are the same food, they don't look, smell or taste similar.
Enhanced variety to ensure a balanced diet Processed baby food is developed for the mass market and, as a result, is limited in variety.
Increased control and knowledge of what baby eats. Its purity, safety, quality and consistency of such ingredients.
Significant cost savings over store bought baby food!
Lower Your Costs
Processed baby foods are expensive. The average baby in the United States will consume 600 jars of baby food. Parents who use processed baby food spend an average of $300 or more on baby food during their infant's first year of life. Making baby food at home is extremely cost-effective, as foods may be purchased either in season or on sale. On average, baby food prepared at home can cost as little as $55 in the first year.
With all these benefits, you may think that it is difficult to make baby food, but it is a lot easier than you think. With all these benefits, you may think that it is difficult to make baby food, but it is a lot easier than you think.

Using fresh produce, a blender and set of ice cube trays, you can make food in quantity and freeze it in single servings. This means you only need to make food once or twice a week.
Bottom line, it takes only about 30 minutes a week.
***Here is an easy and simple kit to start ***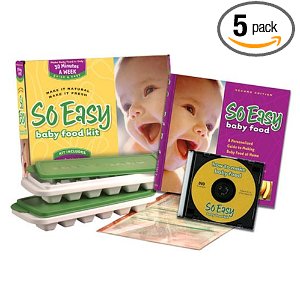 It is designed to help you make solid food for your baby. The Easy Baby Food Kit teaches you how to prepare a nutritious variety of baby food, enhance the flavor of it by adding natural herbs and spices, and to make tasty meals.
Tips on Feeding your Baby - From 4 to 6 months
Babies should not be given cow's milk at this stage. You should start by pureeing some of the foods below with some baby rice, or try them by themselves. Steam or lightly boil the vegetables first:
pear
apple
potato or parsnip
cauliflower
carrot
sweet potato
green peas
broccoli
mashed ripe banana
mashed ripe avocado
It's usually best to offer one taste at a time. It will help you to identify the culprit if your baby has a reaction to a new food, such as a rash or a tummy ache. Stick to fruits, vegetables and baby rice for babies aged between four and six months.
Here is a simple and easy recipe for a common first food:
Sweet Potato Puree
2-3 medium to large sweet potatoes
PREP - Wash, peel and chop sweet potatoes into one-inch (3 cm) cubes
COOK – Place sweet potatoes and 2 Tablespoons (30ml) of water in a pan. Cover. Cook 8-10 minutes. Let stand for 5 minutes. They are done if the sweet potatoes can be mashed easily with a fork.
PUREE – Place sweet potatoes and cooking juices into a blender of food processor. Add 1/2 cup (60 ml) of water. Puree. Add additional 1/4 to 1/2 cup (60–100 ml) of water, as needed, to develop of smooth texture.
FREEZE – Spoon into Baby Food Ice Trays or ice cube trays. Cover. Place in freezer 8-10 hours or overnight. Remove cubes from trays, place in storage container or freezer bag, and return immediately to the freezer.
Makes 24 one-ounce servings. Stays fresh for 2 months in the freezer.
To serve, select frozen sweet potato cubes from the freezer, defrost and warm, check the temperature and feed. DO NOT MICROWAVE.
It's easy to make your own baby foods by cooking and pureeing food. Babies only need very small amounts to begin with, but you can freeze teaspoons of puree in ice cube trays and just defrost enough for one meal at a time.
More tips to Remember:
Peel the skin from fruit and vegetables
Steam or cook in a little boiling water to keep as many vitamins as possible
Bake potatoes and apples in their skins and then scoop out the cooked flesh for the puree
Don't add salt (it makes babies thirsty and may cause dehydration)
Push the cooked food through a sieve or blend in a small blender
Mix the food with some of the cooking water or some breast or formula milk to get a smooth texture As (s)he gets used to 'solids' you can gradually make the puree less runny and then mash instead of sieve the food.
Here is a wonderful Website for mother-to-be and for post pregnancy.
Earth Mama Angel Baby®, which is the only line of 100% natural skin and body care products to support the entire birth process:
pregnancy,
labor,
postpartum and c-section recovery,
breastfeeding,
baby care and even the loss of a baby.

Earth Mama Angel Baby® use the highest quality oils and QAI certified organic herbs. Their products are 100% toxin-free, cruelty-free, vegan, and have no artificial preservatives, fragrances or dyes.