Exterior PROx Nontoxic
Deck and Patio Cleaner
Have you ever cleaned your deck and had the
cleaning agent accidentally killed all
the plants around the deck?


With Prox Deck and Patio Cleaner you can keep ALL your plants alive and well this spring, summer and fall.
Prox Deck Cleaner is a highly effective cleaner based on sodium percarbonate.

What is PROx Deck Cleaner?
ProDeck and Patio Cleaner is a professional strength version of our Oxy-Boost Oxygen Bleach.
The main ingredient is sodium percarbonate, a solid form of hydrogen peroxide bonded with natural soda ash. It is activated by water where it releases oxygen which provides cleaning and stain removal.
Oxy-Boost it also contains cleaning agents that maximize cleaning and a organic stain removal for cleaning and stain removal on tougher jobs like decks, siding, roofing and other exterior surfaces.
Deck and Patio Cleaner is the versatile oxygen bleach for those who care about the safety of their family and their planet. It will not harm plants, flowers, grass, pets, humans or other living things. Unlike toxic products like chlorine bleach, or acids you don't need gloves or goggles to use Deck and Patio Cleaner.
Unlike chlorine bleach, which can merely cover up a stain, Deck and Patio Cleaner attacks and breaks down organic stains to totally remove them from the surface.
Exterior ProX Deck & Patio Cleaner is:
Non-toxic
Performs in hard or soft water
Environmentally safe
No harmful by-products upon decomposition
Compatible with other household cleaners
When mixed with water the Deck & Patio Cleaner releases oxygen; which attaches and breaks down organic stains and dirt, but does NOT attack plants or other living things.
On decks it removes the sun faded, oxidized and worn layers of wood bringing out the original appearance. Other ingredients assist the cleaning solution to wet the surface better, carry away soils from the surface being cleaned and boost the performance of the oxygen bleach.
PROx Deck & Patio Cleaner does not contain harmful or toxic ingredients. It will not harm your plants, flowers, grass or other vegetation. And, it will not harm or discolor your clothes. It is also safe to be used around your kids and your pets.
Wood decks need to be thoroughly cleaned before sealing. Surface debris and stains need to be removed to ensure the best adhesion and performance of the sealer. An oxygen bleach based product like Exterior PROx Deck & Patio Cleaner uses the power of oxygen for cleaning and stain removal but does not have the inherent environmental problems of traditional cleaners.
Why do Natural Wood Decks Need Care, Cleaning and Maintenance?
Decks are an expensive investment and need to be maintained.
Most people wash their car or boat, and occasionally the lawn furniture, but forget to clean and protect their wood deck.
Your deck will look newer and last much longer with proper care and maintenance.
Dangerous conditions caused by slippery or worn boards from mold and mildew, rotting, splintering and corrosion of nails need to be prevented.
Your wood deck surface needs to be cleaned before it is resealed. Surface debris must be removed to restore the wood cellulose to its original look.
Why Use EXTERIOR PROx Deck and Patio Cleaner To Clean Your Deck?
EXTERIOR PROx Deck & Patio Cleaner refurbishes the wood to its natural color and helps prepare the wood for a sealer. It works by deep cleaning wood deck surface.
EXTERIOR PROx Deck & Patio Cleaner removes the sun faded layers of wood from the deck surface along with mold, mildew, organic matter and old sealer.
EXTERIOR PROx Deck and Patio Cleaner will not harm your plants, flowers, grass or other vegetation.
EXTERIOR PROx Deck & Patio Cleaner won't harm your clothes or your skin, your pets or your family.
It is safe for the environment and very safe to use unlike oxalic acid or chlorine bleach type products.
EXTERIOR PROx Deck & Patio Cleaner is safe and easy to use and it really is effective in cleaning your deck!
How Much Deck & Patio Cleaner Should I Use?
One pound of Deck and Patio Cleaner will clean 150 to 300 square feet of deck surface. Dirty horizontal deck surfaces sometimes need a second quick cleaning. Each lineal foot of average railing has 4 square feet of surface area. The average deck is about 400 square feet and requires a minimum of 2.5 lbs. of Deck & Patio Cleaner.
Instructions for Use:
Remove any loose soil or dirt.
Wet the deck with water.
Pre-treat oil and grease stains with a hot water solution of dish soap
Prepare a deck cleaning solution by dissolving 6-8 ounces of Deck & Patio Cleaner* in a gallon of hot water*. Allow 5 minutes for Deck & Patio Cleaner* to dissolve and become "cleaning active".
Apply "cleaning active" solution to deck with a mop, roller, sponge or rag. A pump sprayer or spray bottle is good for applying solution to railings or other vertical surfaces.
Wait 15 –20 minutes after application then scrub with stiff bristle brush or broom.
Rinse with water.

Repeat as necessary, especially for really worn or stained decks.

Solution will remain "cleaning active" for 6 to 8 hours but will be most effective when used soon after mixing.

Do not store in a sealed container as the "cleaning active" solution will give off oxygen and may cause the container to leak.

How Often Should A Deck Be Cleaned?

Generally, every 1-3 years will suffice depending upon the frequency and type of use.

The type of wood the deck is made of, the treatments and protectants applied to the wood, humidity, weather, UV exposure, the amount of particulate and dirt on the wood, and general usage. These factors also will dictate the need to clean and reseal.

Customer Testimonial "I wanted to let you know how impressed I am with your customer service AND the product. I received the product within 24 hours...However, the BIGGEST joy is seeing how clean my deck is after using PROx DECK & PATIO CLEANER! I am sure this deck has not been cleaned since it was built in 1992. It currently looks brand new. And the bonus is that this product does not harm the environment. Thank you, from a very satisfied customer." -Diana

Clean up your Deck this Fall and Get your Deck and Patio Cleaner Today!!

BUY Exterior PROx NOW

Benefits of Organic Cleaning Products
Alternative Cleaning Products
What Lurks in your Home?
Homemade Cleaning Solutions

Laundry Detergent Alternatives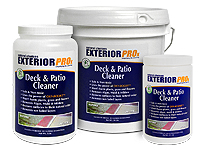 BUY Exterior PROx NOW
Exterior PROx Nontoxic Deck & Patio Cleaner

Wood Deck Cleaning, Stain Removal and Protects - Clean and Restore your Wood Deck
LIMITED TIME ONLY!!!
Reduce Prices on all size of PROx CLEANER.
1 lb. of PROx Deck Cleaner for 150-300 sq.ft. of deck surface.
"I just finished cleaning my deck and it looks wonderful. It was so easy. I got a good size bucket and add the solutions and warm water, waited 10 mins. for it to dissolve. It is so easy. I take my brush soak it in the bucket, cover enough solution to the deck board and waited 20 mins. I could see the liquid turning white and foaming. Then I use a long handle brush (so you are not on your hands and knees or bending over) and scrubbed, then hosed it off. If area were really bad I would put more solution on again and wait. After it dried you can really see the difference. I absolutely love it... I did it without gloves, mask and even in my bare feet. And the product goes a long way."

Owner of Live the Organic Life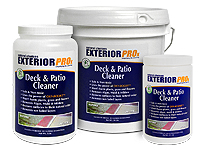 or go to
---