Apple Cider Vinegar
100's of Cures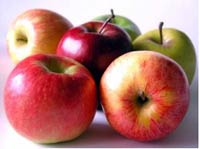 PICK UP SOME ORGANIC RAW APPLE CIDER VINEGAR (ACV) - VERY LOW PRICE: NOW only $8.40 (16 oz.) and only $15.00 (for pack of 2) FOR SUCH A POWERFUL HEALTH REMEDY. ---------------------------------->
While apples should be part of your diet, (ACV) should also be included in your diet. The healing benefits of ACV are remarkable(see below).
I call this my miracle liquid. I only use Bragg - Apple Cider Vinegar.
It is the best on the market. This cures everything from Allergies to Foot Ailments. For over all health I take a daily tonic (1/8-1/4 cup) in 8 oz. of water.
As a thanks for visiting this site today, I'd like to offer you 4 FREE BONUSES that you can receive immediately:
Information on cooking oils you should never eat,
Seven reasons to use coconut oil daily,
The truth about bread (all types),
Found out why high blood pressure drugs don't work and the natural method that does.
ACV helps allergies and offset signs of colds. A good home remedy for the early stage of ear infections in children is to put a few drops of warm ACV in the ear canal, then plug the ear loosely with a piece of cotton.
It did wonders for my son, when he got swimmers ears. Put a few drops of alcohol and a few drops of ACV and he was set.
Applying a combination of baking soda and apple cider to the face will shrink pores and tighten skin.
Hippocrates (the father of medicine) discovered natural, undistilled Vinegar* is a powerful cleansing and healing elixir – a naturally occurring antibiotic and antiseptic that fights germs and bacteria – for a healthier, stronger, longer life!
Apple Cider Vinegar is one of the most powerful and popular home remedies in the world. Even some doctors and nutritionists acknowledges its effectiveness in treating arthritis, high blood pressure, memory loss, stomach upset and much, much more.
We are learning that a daily "cocktail" of ACV can do wonders when it comes to preventing and treating a number of ailments.
Relieve arthritis (flushing harmful toxins and crystals from joints, tissues and organs.)
This information is dismissed by health professionals as old wives' tales.
I wonder why??? No money in their pockets.