Alternative Cleaning Products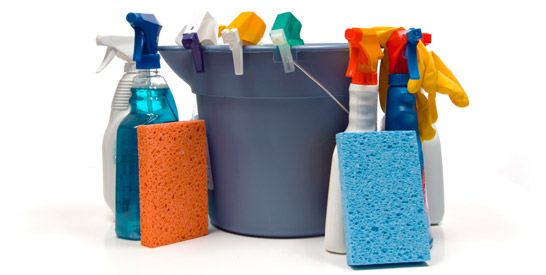 Alternative Cleaning Products
Benefits of Organic Cleaning
What Lurks in your Home?
Homemade Cleaning Solutions
Organic Cleaning Products
See Natural Products for your
Spa or Hot tub.
---
Oxy-Boost is a product called Oxy-Boost, an Oxygen Bleach Cleaner - a Non-Toxic Alternative Cleaning Products.
OXY-BOOST is a safe and effective alternative products to chlorine based products and it can be used in many applications in and around the home.
By now many of you are familiar with powdered oxygen bleaching products seen in stores or advertised on television. They range from "Tide with Bleach" to "OxiClean" to "Ajax Oxygen Bleach Powder Cleanser" to "Wolmans Deck and Siding Brightener".
BUT, I found by doing quite a bit of research that this product (Oxy-Boost) is superior to any other oxygen bleach on the market.
And this is why...For more information on Oxy-Boost vs. Nationally Advertised
I found this last year when I was trying to find alternative cleaning products something to clean my deck. I come across this product call Oxy-Boost. It is a concentrated oxygen bleach powder that can be use on practically anything and it works.
Don't be scared by the word, "Bleach". This is a non-toxic alternative cleaning products to chlorine bleach.
Oxygen bleach can be used to kill and remove mildew. When you mix the powdered oxygen bleach with water, it creates millions of oxygen ions, more water and soda ash. The oxygen ion is the component that attacks the mildew.
That is about as safe as you can get.
Oxygen Bleach is a great product that removes ALL SORTS OF STAINS. It removes red wine, blueberry, beet juice, body oils and perspiration, carpet stains, grass stains, cooking grease, blood stains, mud, mildew, oil, pet accidents, carpet stains.
Oxygen bleach solves many problems. It cleans and renews safely most anything from decks to grout, to whitewalls and old, yellowed, but favorite sweaters, to laundry and pet disasters.. and more!
For Example: My Mom had quite a few stains on her rug in front of my Dad's desk, that apparently been there for a long time (since my Dad's passing). She had tried everything and decided to get a professional – Stanley Steamer (that was a waste of money – still see the spots), then tried a friend who had his own rug cleaning business, still couldn't get it out. Then I told her about oxygen bleach and I came over and worked on her rug; if you call it worked. I just dissolved a ½ a cup of powder with warm water (1 gal.) for about 10 minutes, use a brush on the stains, let it sit for about 15 minutes, took a damp cloth and absorbed the stains and vacuumed. My Mom could not believe it; it was completely gone and looks good as new. And all I used was a little bit of this powder. I cleaned it without gloves or any ventilation. No harm to your skin or no strong smells, in fact, there is no smell to this product.
What is Oxy-Boost?
Oxy-Boost is a blend of sodium percarbonate (which is oxygen bonded to soda ash) and sodium carbonate (soda ash) for removing stains and deodorizing. These are great alternative cleaning products.
It is like a solid form of hydrogen peroxide but more powerful and stable. It is a white, odorless, free flowing powder. It is activated by water where it releases oxygen which provides cleaning and stain removal.
Unlike chlorine based bleaches, sodium percarbonate is non-toxic and biodegradable. The level of soda ash used by this company optimizes the cleaning power of the sodium percarbonate.
Most other manufacturers of oxygen bleach products use a much higher level of soda ash whereby it becomes low cost filler rather than a performance optimizer.
BUY Oxy-Boost Now!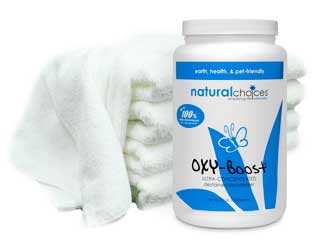 Advantages of these alternative cleaning products:
Get rid of stubborn dirt and organic stains without having to use toxic and hazardous materials like chlorine bleach.
Contains NO sodium sulfate and NO sodium chloride which are fillers and these fillers do nothing for cleaning.
Safe at all temperatures, on most washable fabrics, and all colors, in hard or soft water,
Oxygen bleaches can be mixed or used with other household cleaners
Can be used on carpet, upholstery and even the most delicate linens
Produces no harmful by-products which negatively affect the environment
Attacks and breaks down organic stains to totally remove them from the garment. Unlike chlorine bleach which merely covers up the stain.
Do a better job than traditional bleaches and cleaners.
Better long term shelf stability because it is a powder.
Acts as a disinfectant on both bacteria and viruses
Brightens fabrics
Oxygen bleaches can be mixed or used with other household cleaners And the BEST ADVANTAGE to alternative cleaning products:
Non-toxic to animals, plants and humans.
Disadvantages - (there are a few minor drawbacks, but not many at all, but wanted to tell you about them)
They take time to dissolve in water (about 10 minutes).
While very effective, oxygen bleaches can take longer to work.
They are not suited for some finer grades of silk or wool.
How Do Oxygen-Based Cleaning Products Work?
When you mix the powdered oxygen bleach with water, it creates millions of oxygen ions, more water and soda ash. Upon mixing with water, they release oxygen which does the destaining and deodorizing.
Traditional household bleaching products are based on chlorine. Oxygen-based bleaching products are just as effective as chlorine based products but will not hurt people, animals, plants, or the environment. Also, they will not harm the fabric or surface they are used on.
In fact, unlike chlorine bleach which can merely cover up a stain, Oxy-Boost attacks and breaks down organic stains to totally remove them from the garment.
Where Can I Use Oxygen-Based Alternative Cleaning Products?
Oxy-Boost oxygen bleach is excellent for cleaning and removing organic stains (such as coffee, tea, wine, fruit juices, foods, sauces, grass and blood) from fabrics, plastics, fiberglass, porcelain, ceramics, wood, carpets, asphalt, concrete, etc. Oxygen bleach containing products can be used in any place in or around the house that need to be destained and deodorized; they are efficient, safe and economical. Although Oxy-Boost is most often used for laundry, carpets, and upholstery, is it also a great deck cleaning product. (see above how I used it on my deck).
Remember this oxygen bleach product is called Oxy-Boost. It is 100 percent pure oxygen bleach. There are no additives, fillers, extenders, etc. in this product.
You can order oxygen bleach by going to my Oxy-Bleach Store.



---
This company, Jelmar LLC manufactures three wonderful products:
CLR Calcium, Lime and Rust Remover,
CLR Bath & Kitchen
Cleaner and CLR Septic Treatment and Drain Care

Calcium Lime Rust, more commonly known as CLR, is a household cleaning product used for dissolving stains, such as calcium, lime, and iron oxide deposits, found in kitchens or bathrooms.

Its ingredients include water, lactic acid, gluconic acid, glycolic acid, sulfamic acid, citric acid, and surfactants. It is phosphate free. The phosphate free formula is more environmentally friendly and a great alternative cleaning products.
CLR Calcium, Lime and Rust Remover: a powerful formula designed to dissolve the toughest calcium, lime and rust stains. It works best on bathtubs, toilet bowls, sinks, glass, chrome, fiberglass, stainless steel, coffee makers, humidifiers, dishwashers, washing machines and shower heads to remove tough calcium and lime deposits and surface rust stains.
CLR Bath & Kitchen Cleaner: a multi-use cleaner perfect for regular use in the kitchen and bathroom for general cleaning and to cut through tough soap scum and grime.
CLR Septic Treatment & Drain Care: a product that works effectively to keep underground septic systems from becoming clogged with human waste.

All three products are earth-friendly with no phosphates, ammonia or bleach to harm you or your family.

According to the CEO of Jelmar, "Environmental consciousness is at an all-time high, consumers are seeking products for their home -- from the plastics they use to cleaning products -- to be effective but also have less environmental impact."

Their trusted alternative cleaning products and supplies can be used every day and are safe for both the environment and families -- eliminating the need for consumers to sacrifice clean for green.

For More Information on Calcium, Rust & Lime Removers click here.


---
Oxy-Boost vs. Other Companies
More information on Oxygen Bleach
Uses and Instructions of Oxygen Bleach
Benefits of Organic Cleaning Products
Homemade Organic Cleaning Solutions


---
ONE LAST NOTE (I promised)
Natural Choices, who manufacturers OXY-BOOST get numerous questions about their packaging. Why is it so plain? Why is it plastic instead of cardboard? Why is it not as convenient to get as other brands?
The main reason is that they believe that you'd rather pay for what's inside the package instead of what's on the outside. They keep their packaging costs low by:
Using stock bottles and lids instead of fancy custom packages. They use plastic because it provides a better moisture barrier than cardboard - a critical factor when it comes to maintaining the product quality of oxygen bleach products.
Infrequently changing the product labeling, thereby avoiding costs associated with printing a new screen each time the label is changed.
Designing the label copy themselves instead of hiring a graphic designer.
Printing their label copy in only two color (black & blue) instead of more-expensive multi-color printing.
They would rather continue to spend their resources on high quality ingredients and on the research and formulation of innovative new products than spend them on changing their packaging. They believe that their products are priced fairly given what it costs them to produce them.
They hope you will agree that when it comes to alternative cleaning products, just like people, it's what's on the inside that counts!
Thank you for your continued support over the years. As their sales have increased, many of their costs have decreased. We are sharing these savings with you...our treasured customers. They have worked hard to offer you fair pricing for superior products. Please continue to tell others about Natural Choices. Help them to help others find safe, quality alternative cleaning products.
Because I deal directly with this company, I get a better price so I want to pass this on to you, you can NOW really start getting organic in your home and get rid of those TOXINS. The scary thought that all these years I have been using these products while my kids were young. Thank God, I didn't clean as much as I should, but NOW I have the opportunity to do the RIGHT thing and I wish the same for you. Please email me with any questions. This is my #1 Priority, beside Organic Food that I wish to pass on to my customers. We need to fight back and get healthy again!!!
HERE ARE MY TWO CENTS (o.k. I know I promised, but just one more thing) –
I would rather invest money into a product that is clean, pure and safe than spend a little less money on a product that is toxic, too many fillers and helping the "big boys" gets rich or richer. The reason many brand-name companies produce these products with chemicals because they think this is what the consumer wants: fast-working, cheap and convenient, but the real reason is MONEY. It is very cheap for them to make their products made of chemicals – CHEMICALS are very cheap to manufacturer. I think, as consumers we all should really look into who are controlling who. Let's stop buying those nasty products and take control of your life and environment by purchasing green alternative cleaning products for your family.
O.k. I'm going to be quiet now. See you on the flip-side of living, organic living that is.

BUY Oxy-Boost Now! and use Alternative Cleaning Products

Thank you for visiting my site: alternative cleaning products.

From Alternative Cleaning Products to Organic Cleaning
My OXY-BLEACH STORE