Organic Gifts
GREAT FINDS on UNIQUE Organic Gifts
---
Eco Lunches
Gorgeously Green Gift Set Lunch Boxes
Organic Pets
Your Pets deserve Organic too.
For New Mothers and Baby Gifts
Organic Wine Gift Packages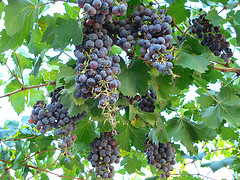 Buy 100% Organically Grown Wines Online!>


Organic wines are produced using organically grown grapes.
---
Details on Store Mentioned Above.
ECOnscious
- Their SUSTAINABLE PRODUCT line includes a complete range of inventoried Tees, Fleece, Hats, Beanies and Bags made with certified organic cotton fiber.
Essona - DID YOU KNOW? that Essona Organics is made with only pure, organic, natural, biodynamic, and therapeutic ingredients designed to nourish your body, mind and spirit.
Natural and Organic Green Baby Gifts
Natural baby gifts are good for the new baby.
On a regular basis soap, lotion, shampoo, creams, baby powder, and wet wipes, are applied to the new baby's skin and are not used to the harsh chemicals that are used in these products.
Natural and baby gifts are kind, loving and gentle to new baby skin. By giving organic or natural baby gifts to new babies, we know that it will be gentler and will lessen the chances of new babies developing skin conditions.
Natural baby gifts give us the peace of mind that they will be good for the environment, good for babies.
One of the best resources for organic baby gifts are below:


As a mom, I know how hectic life can be, especially preparing for a new baby.
And for those of you reading this that don't have a baby you can always find great gifts for those who do!
Purchase natural gifts on-line inexpensively and economically.
For the best in green gifts and reasonable prices visit the following stores:
---
eBags - Really Cool Site - Great Your Unique Gift Here Here is a store that has the COOLEST Organic gifts. I have never seen anything like this before.
is a one-of-a-kind online retail store.
They offers a collection of chic, unique and eco-fashionable handbags made out of recycled and eco-friendly materials.
If you are passionate about helping the environment and concerned at how our planet is slowly depleting its resources, then you will be very happy to shop at Eco-Handbags.
Every year, there are tons of reusable products that are dumped in landfills that can be easily refurbished and transformed into renewable consumer products. You just need to be determined and have a good imagination. The talented designers from Eco-Handbags have come up with incredible ways on how to reduce, recycle and re-use. You can find handbags, clutch bags and coin pouches made from candy wrappers, movie billboards, chopsticks,sails, soda pop tops, 35 mm slides, bicycle inner tubes, record albums and CD's, and other materials that you can imagine.
Their handbags are eco-friendly and eco-chic! Get them on sale NOW!!!
---
I LOVE THIS SITE. Their mission is to spread the organic message. Through their products and through their projects, they are passionate about organic living and giving people fun and easy ways to say, "I'm Organic, are you?" Link to to find the latest trend in organic products.
---
SO WHAT ABOUT YOUR PETS??? Here is a great store that will provide all gifts from toys, clothes to biscuits for your 4-legged friends.
=============================================================
If you would like to do more of an extensive search for your organic gifts, link to our Organic Store Organic gifts provide a healthier and fun alternative for consumers. These gifts provide a way to show appreciation while showing your concern for our environment.
When you choose to give natural, recycled and organic this year, you are sending the message that good taste can also be good for the environment.
Organic presents give back in many ways; by educating consumers, by providing consumers with natural alternatives, and by giving a portion of their profits to charity.
When it comes to organic food products, the Food and Drug Administration oversees the regulations that determine whether a company can classify its product as organic. The Organic Trade Association oversees all organic non-perishable items. Any company that sells organic gifts without following these regulations is subject to a hefty penalty.
With organic availability becoming more available, there are many natural gift providers available.
These links make it easy to give green gifts. Some sites offer green gifts, others have great gift baskets ready to ship, and some will even help you choose just the right green gifts for any occasion. There's something for every taste and budget, from the simple to the luxurious.

From Organic Gifts for Organic Store