Organic Dinner Recipes

LIST OF MY OWN ORGANIC DINNER RECIPES
My Favorite Organic Chili
Organic Butternut Squash Casserole
Organic 4-Bean Stew
Organic Broccoli & Spinach Soup
Organic Chicken Noodle Soup
Organic Macaroni and Cheese
Organic Spinach Lasagna
Organic Homemade Spaghetti Sauce
Baked Chicken
Organic Potatoes La Lanne – Great Side Dish!
Blender Soup – Great Entree!
Lila's Organic Tortilla's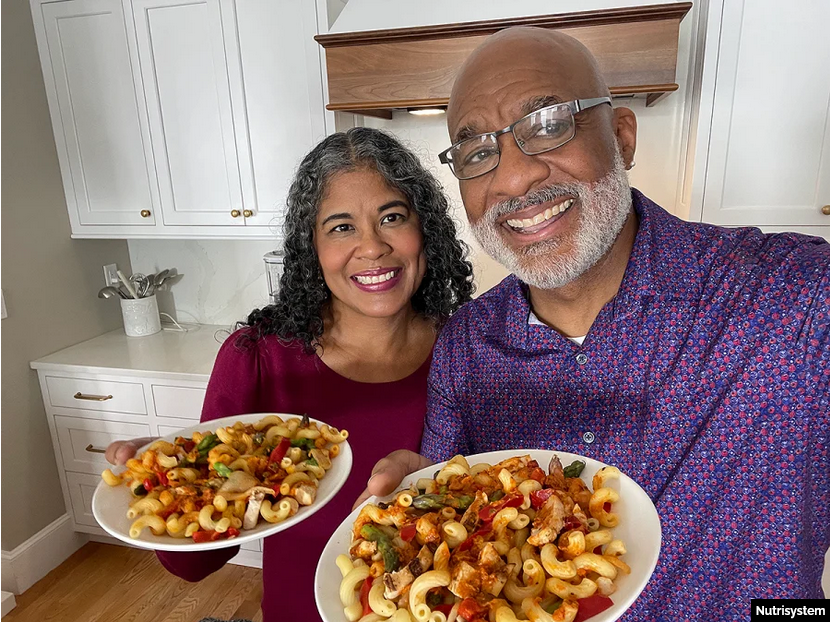 Note: Because you are trying to follow an organic lifestyle, Live the Organic Life recommends using certified organic ingredients, when available, in all recipes to maximize flavors and minimize your risk of exposure to pesticides, chemicals and preservatives.
I highly recommend organic spices because of the vulnerability they have on picking up chemical and pesticides. Not getting organic spices, you will lose much of its nutrients value that spices have to offer. Try bulk in health stores, wholes food stores and some grocery stores (eventually they will catch up) it will keep your cost down. Store in a tight-closed container and in a cool dry place.
My Favorite Organic Chili
(I put this in my crock pot.)
2 lbs. coarsely (grassfed, no pesticide, no hormone) ground beef (brown and drained)
1 – 13 oz. organic kidney beans
1 - 28 oz. organic crushed or diced tomatoes
2 medium organic onions, coarsely chopped
1 green organic pepper, coarsely chopped
2 cloves garlic
2 tablespoon organic chili powder
1 teaspoon organic ground pepper
1 teaspoon organic cumin
Sea salt to taste

After browning your ground beef, put all ingredients in your crock-pot in order listed. Stir a few times.
Cover and cook on Low 10-12 hours or High for 5-6 hours. Serve with 100% whole-wheat bread and sprinkle feta cheese. It is delicious.

===========================================================

Organic Butternut Squash Casserole
This is a great accompaniment to any entrée such as chicken or fish and is a snap to make.
Ingredients:
1 large organic butternut squash, peeled, seeded and thinly sliced
1 medium red organic onion thinly sliced
1/3 cup organic apple juice
2 tablespoons of organic butter
2 tablespoons of organic honey
¼ cup of sliced almonds
1/8 teaspoon of organic cumin powder
1/8 teaspoon organic tumeric powder
Serves six
Preheat oven to 350º F.
Combine squash and onion in a mixing bowl and toss with spices and place in casserole dish.
In small bowl whisk together juice, honey, butter and almonds.
Pour over squash and bake until tender and brown about 40 minutes.
Serve as accompaniment to chicken, fish any entrée.
===========================================================
Here is a list of great organic soup and stews to keep you warm and going in the winter months.
Organic 4-Bean Stew (This is delicious and makes large amt. for freezing)
1 medium organic onion – diced
2 garlic cloves – minced
1 large organic green peppers, diced
1 - 15 oz. can organic black beans
1 - 15 oz can organic white beans
1 - 15 oz. can organic chickpeas (garbanzo)
1 – 15 oz can organic red kidney beans
1 – 10 oz. sweet organic frozen corn
2 tsp. organic chili powder
2 tsp. cumin
1 cup of organic vegetable broth
1- 28 oz. can organic diced or crushed tomatoes (prefer the diced)

Here are two ingredients you can add if you wish 1 jalapeno pepper ¼ c. sliced black olives (I do not use these two ingredients when I make this for my family)
Heat oil in skillet and sauté onion, garlic and green pepper til soft. Transfer to a large casserole dish and add all other ingredients. Stir to combine. Bake covered at 350◦ for 1 hour.
Note: Drain liquid from all the beans' cans. Also, if I don't have the different types of beans I just use what I got)
===========================================================

Organic Broccoli & Spinach Soup
Serves 4-6

Ingredients:

1 ½ pounds of organic broccoli
2 tablespoons extra-virgin olive oil
1 cup diced organic onion
1 cup chopped organic leek (or spring onions)
1 ½ tablespoons organic minced garlic
Salt and freshly ground pepper
1 teaspoon of fresh organic basil chopped
1 teaspoon of fresh organic marjoram chopped
1 teaspoon of fresh organic Italian parsley chopped
5 cups organic vegetable stock (you can also use chicken stock)
2 cups of packed organic spinach washed, and trimmed
2 teaspoons of freshly grated lemon zest
2 tablespoons of fresh lemon juice
1 cup organic vanilla soy milk

Cut the stems from the florets of the broccoli Cut stems into about ½ - inch pieces.
Heat the olive oil in a soup pot over medium high heat. Add the onion and leek to pan and season with salt and pepper. Add garlic and cook for about 1 minute. Lower temperature to medium heat and cook vegetables slowly until tender about 10 minutes (you do not want the vegetables to take on any color).
Stir in the basil, marjoram, and Italian parsley. Add the broccoli stems, vegetable stock and salt and pepper to taste. Bring to a simmer and cook uncovered for 2-3 minutes. Add the florets and cook until fork tender about 5 minutes. Stir in cleaned spinach and lemon zest. Once the spinach has wilted into the soup, puree the soup in small batches in a blender.
Return blended soup to pan and stir in lemon juice then soy milk. Taste and adjust seasoning if needed. Serve in warm bowls and garnish with lemon zest.
This recipe can be made ahead up until the point you blend the soup and store it in the refrigerator for several days or up to one month frozen.
===========================================================
Organic Chicken Noodle Soup
(This is so easy – I put this in my crock pot)
2 - ½ lb. hormones-free skinless chicken breast
2 onions, chopped
2-3 organic carrots, sliced
2 organic stalks celery, sliced
2 tsp. sea salt
¼ tsp. pepper
½ tsp. organic basil
¼ tsp. organic leaf thyme
3 TBLS. organic dry parsley flakes
2 cups filtered water
2 cups organic chicken broth
1 cup whole wheat wide-flat noodles

(Sometimes instead of 2 cups of water I use 32 oz of broth) – sometimes I add a little bit water at the end when I add the cup of noodles in)
Place all ingredients in crock pot except noodles in order listed. Cover and cook on Low 8-10 hours. (High: 4-6 hours) On hour before serving, remove the chicken breasts and cool slightly – cut in ½" pieces. Add pieces back to the pot and add 1 cup of noodles. Turn to high. Cover and cook one hour. You will get the best chicken soup you ever eaten without add preservatives and chemicals.
Serves approx. 4-6 people (depend on their appetite.)
===========================================================
Organic Macaroni and Cheese
1 lb. cooked ground turkey or hamburger (w/o hormones)
1 pkg. Organic Macaroni & Cheese (cook according to package)*
1 tsp. organic chili powder
organic shreddred cheese (any amt or any kind)
3 cups cooked small pieces chopped organic broccoli (optional)
6 oz. organic tomato sauce

Cook Macaroni Brown meat in large skillet; drain. After macaroni and meat is done STIR rest of the ingredients to the macaroni Heat on low; simmer 5 min., stirring well. ADD cooked meat and broccoli (if you like); simmer 5 min.
*Note: I use two types – Nature's Promise or Trader's Joe's brand
===========================================================
Organic Spinach Lasagna
1 sm. box uncooked organic lasagna noodles
16 oz. sm. curd cottage cheese (try to buy organic)
2 c. shredded organic Mozzarella cheese
1 egg
1 (10 oz.) pkg. frozen spinach, thawed and drained
or use the organic fresh spinach you see in the produce section.
1 tsp. salt
3/4 tsp. organic oregano
1/2 tsp. organic pepper
32 oz. organic spaghetti sauce
1 lb. ground (no hormones, no preservatives) beef, browned, add to sauce

Mix egg, 1 cup Mozzarella cheese, cottage cheese, spinach, seasonings. Layer in 9" x 12" pan. Lightly grease a lasagna pan and spoon in enough meat sauce to cover bottom of pan; top with strips of uncooked lasagna. Spread with part of cheese filling. Repeat layers, ending with meat sauce. If desired, sprinkle with 1/2 cup Parmesan cheese. Cover tightly with foil. Bake for 1 hour and 15 minutes. Let stand 15 minutes. Delicious.
===========================================================
Organic Homemade Spaghetti Sauce
3/4 c. chopped organic onion
1 clove organic garlic, minced
3 tbsp. virgin olive oil
2 (1 lb.) cans organic tomatoes, cut up or diced (4 c.)
2 (6 oz.) cans organic tomato paste
2 c. water
1 tsp. stevia
1 1/2 tsp. salt
1/2 tsp. pepper
1 1/2 tsp. organic dried oregano, crushed
1 bay leaf

I use Giant's organic brand – Nature's Promise (use the store brands and always buy on sale – I always buy more if the sale is really good). Use the store brand where you go shopping, it is usually the best price). As far as getting the spices I have a local health store that carries bulk spices and I buy by adding to little baggies (this way I can buy as little or much as I need – and it is so much fresher).
===========================================================

Baked Chicken
4 Chicken ½ lb. Hormones-Free Breast

A Mustard Sauce:
Red Wine Vinegar
Olive Oil
1/2 Cup Honey
1/2 Cup Mustard (your favorite – I use Trader's Joe brand)
1 Tsp Lemon Juice
1 Tsp Finely Chopped Onion
1 clove of garlic

Place breast w/o skin in a baking dish lightly coated with olive oil. Combine mustard sauce ingredients and spoon over chicken. Bake in a preheated 400-degree oven for 30 minutes. Baste periodically. YIELDS: 4 SERVINGS

===========================================================

Organic Potatoes La Lanne GREAT SIDE DISH!
4 Medium Organic Potato
Safflower Oil
Seasoning to Taste (ground pepper, garlic, and/or onion powder)

Wash potato with skin. Scrub carefully as though for baking, then dry. Slice potatoes crosswise in approximately 1/8-inch thickness, leaving skin on. Dip each slice in mixture of safflower oil and season, according to taste with vegetable seasoning, garlic, and/or onion powder.
Place each slice separately on a large sheet of foil (laid on a cookie sheet), crimping the edges. Place in the broiler (which has been pre-heated for 5 minutes). Broil 3-5 minutes until crispy brown. Flip the slices and brown the other side. Serve with a meal or as a substitute for potato chips. ===========================================================

BLENDER SOUP - GREAT ENTREE!
1 Box organic Chicken Broth
1 organic Carrot, Chopped
1 Small organic Bell Pepper, Chopped
1/2 organic Zucchini, Chopped
1 organic Stalk Celery, Chopped

Mix the above ingredients in a blender. Pour in saucepan and bring to boil. You may substitute any of the vegetables mentioned for the ones you have sitting in your refrigerator waiting to be used. Serves 2-3.
Variation: Use 1 cup of water and 3/4 cup each (all chopped) of celery, bell pepper, potato, cauliflower, carrots, cucumber, and zucchini. Add 1clove garlic (optional). Heat and serve as above.
===========================================================
Lila's Organic Tortilla's
1 organic onion (any kind)
3 stalk of organic celery (cut-up)
3 sticks of organic carrots (cut-up)
1 organic green or red pepper
Any spices you like
1 clove garlic (diced)
Extra Firm Tofu (block – cut-up in cubes)

I sauté the first 4 ingredients in a frying pan and then add spices. Once the ingredients are translucent then you can add the cube tofu and garlic.
For a change, I add in different vegetables and cut-up cooked chicken.
Heat tortillas (I get the 8" round) in the toaster oven for about 3 mins. Add the ingredients (about ½ c. to ¾ c. and sprinkle cheese (I add feta cheese) you can use any favorite cheese. Roll and put toothpick to hold the tortilla – this helps melt the cheese. You can add organic salsa on top.

Rakuten is a FREE SERVICE that pays you the highest CASH BACK. ANYTIME, ANYPLACE you buy on the Internet (such as Ebay) GO TO Rakuten first, they give you cash or credit your account every month. (I already saved $21.38)
Rakuten connect you with some of the best deals and coupons found online. They work with over 234 popular retailers.
So if you shop at one of these retailers go to Rakuten FIRST and you'll have access to thousands of discounts up to 80% off, free shipping and more all year around. Click Here to learn more.
Live Organic Life only makes commission when a reader purchases a product

Click Here for great organic coupons.