Organic Cleaning Products
Oxy-Bleach Store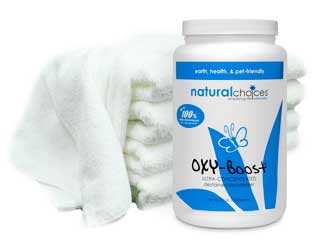 More organic cleaning products and other resources will be added continuously...thanks for checking back.
Cleaning the bathroom can be so tedious: the endless scrubbing, the nasty soap scum, the toxic chemical fumes and of course, the infamous toilet bowl.
Here at Live the Organic Life, we feel your pain. We all want beautiful, sparkling toilettes, but the process is often unpleasant. While we can't promise to make you love cleaning your bathroom, we've found Natural Choices – Oxy-Boost which will make your task much more inspiring, each with earthy-friendly ingredients and delightful fragrances that will whiten your porcelain and lighten your workload.
---
OXY-BOOST - Destainer & Deodorizer Oxygen Bleach

Great REDUCED prices for a great product. A great time to try it. It is 100% money back guaranteed.


---
Details on Oxy-Boost
OXY-BOOST is one of the organic cleaning products, safe and an effective alternative to chlorine based products and it can be used in many applications in and around the home including, kitchen, bath, yard and deck (Uses and Instructions on Oxygen Bleach). It is based on sodium percarbonate which uses oxygen for de-staining and deodorizing.
OXY-BOOST is safe to use at all temperatures, on most washable fabrics, and all colors, in hard or soft water, and is compatible with other household cleaners.
Also, it produces no harmful by-products which negatively affect the environment. Unlike chlorine bleach, which can merely cover up a stain, Oxy-Boost attacks and breaks down organic stains to totally remove them from the garment.
Customer's Testimonial "Just wanted you to know I'm reordering Oxy-Boost for the third time...can't be without it! I've used it to remove pet stains from carpets, difficult stains from clothing and tablecloths, and to clean my deck. Recently, when I was out of bleach and really needed to do a load of whites, I added Oxy-Boost and soaked the load for an hour. To my surprise, everything was cleaner and whiter than it had ever been with bleach...not to mention how much gentler Oxy-Boost is compared to bleach..."
Organic Cleaning Products is the WAY TO GO!


---
OXY-GROUT - Grout & Tile Cleaning

Oxy-Grout, is one of the organic cleaning products, that contains the TRUSTED POWER of OXY-BOOST Oxygen Bleach
Oxy-Grout safely cleans your grout and gets rid of mold and mildew. Oxy-Grout contains a special activator to increase cleaning efficiency. Oxy-Grout does not contain harmful acids or chlorine bleach. Oxy-Grout has no dangerous noxious odors. Oxy-Grout contains NO phosphates, dyes, perfumes, or fillers.
Directions for Use:
Method #1)
Wet surface to be cleaned with warm water. Liberally sprinkle Oxy-Grout onto area; scrub with stiff brush. Allow cleaning contact for about 15 minutes, rinse thoroughly.
Method #2)
Make a paste by mixing a small amount of Oxy-Grout with warm water and apply with brush or rag, scrub, soak, rinse.


---
Mineral-Magic - Hard Water Deposit & Surface Rust Remover

Mineral-Magic is one of the organic cleaning products that removes calcium and lime scale and surface rust quickly, easily and SAFELY look no further. Mineral Magic is your solution and there is no need for rubber gloves anymore!
    Use Mineral Magic to clean:
Tubs
Shower Stalls
Toilet Bowls
Sinks
Glass, Chrome, Fiberglass, Stainless Steel, Tile, Masonry and Porcelain
Faucet Fixtures and Shower Heads
Washing Machines and Dishwashers
Humidifiers and Coffee Makers
Almost anything affected by hard water deposits




Unlike other products that contain toxic and corrosive acids Mineral Magic is based upon an organic salt that effectively removes hard water and rust stains without the harmful side effects that other products have.
Mineral Magic is an organic cleaning products that contains no phosphates, no abrasives, no solvents and no harsh chemicals. It is a unique low pH product and does not contain traditional dangerous acids- unlike the leading brands of hard water deposit removers!
It is safe for your septic system and even more important: Mineral Magic is safe for you to use!
---
OXY-PRIME Ultra-Concentrated Powdered
Laundry Detergent

OXY-Prime is safe and effective at all water temperatures with all water qualities and all washable fabrics. Available at Amazon
OXY-Prime is one of the organic cleaning products and most concentrated, environmentally friendly and highly effective powdered laundry detergents available. This product is safe and effective at all water temperatures with all water qualities and all washable fabrics.
OXY-Prime's cleaning power is enhanced with the proven oxygen bleach power of OXY-Boost. Rinses completely and decomposes almost immediately in the environment leaving no toxic by-products or phosphates to the water table.
---
ALLERGY-FREE Natural Choices Liquid Laundry Detergent

Natural Choices Liquid Laundry Detergent Ultra was developed by and for people with allergies, asthma and multiple chemical sensitivities. Available at Amazon
Allergy-Free was developed for people with allergies, asthma and multiple chemical sensitivities (MCS).
Allergy-Free is another organic cleaning products. This product is 100% free of petroleum-based or other hazardous ingredients, fragrances, phosphates, animal by-products, dyes and other common triggers for respiratory or skin irritations.
Allergy-Free is safe for all washable fabrics, including gentle care items and works best when used with Oxy-Boost™ oxygen bleach. Read more on Allergy-Free......
---
---
OXY-POOL - Removal of Algae in Pools


Oxy-Pool is one of the organic cleaning products, a great product for a great price. Oxy-Pool has a better quality than any other commercial pool products.

Available at Amazon
When added to water, Oxy-Pool immediately disassociates to natural soda ash and hydrogen peroxide, which oxidizes algae and other organic matter.
Oxy Pool is effective in reducing levels of chlorine in pools. At a level of only 5-6 ounces per 10,000 gallons of pool water it will remove 0.2-0.5 ppm of free chlorine.
Oxy-Pool can be used in all types of pools, but is ideally suited for vinyl lined pools and will not attack or bleach out the lining's color.
Oxy-Pool overcomes this problem as it uses oxygen instead of chlorine bleach. The advantage to oxidation without chlorine is that there is no added production of chloramides and if a non-chlorine releasing agent is being used sanitizing efficiency is increased without raising the chlorine level.
Regular preventive use with Oxy-Pool, will give you better water quality, longer periods of uninterrupted swim time, less eye and skin irritation and a more manageable maintenance schedule. Read more on Oxy-Pool....
---
OXY-CLING THICKENER for Vertical Surfaces, Starting at: $10.95

Longer contact times are needed for cleaning vertical surfaces like wood railings, siding, roofs or stairs
Oxy-Cling is a safe acrylic thickener that is used with Oxy-Boost to make the cleaning solution thicker for better cling.
Directions For Use: For normal use add 1/4-1/3 cup or 2-3 ounces of Oxy-Cling per gallon of Oxy-Boost cleaning solution. Mix well before use to let viscosity develop completely. Apply thickened solution as necessary. Note: Thickened solutions may not apply well with all types of spraying equipment.

---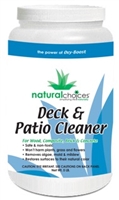 Exterior Natural Choices Nontoxic Deck & Patio Cleaner

Wood Deck Cleaning, Stain Removal and Protects - Clean and Restore your Wood Deck
LIMITED TIME ONLY!!!
Reduce Prices on all size of Natural Choices CLEANER.
Available at Amazon
Fast acting and CHLORINE free, this powerful nontoxic formula cleans the tough jobs yet is safe to use outdoors. Won't harm plants, people or pets and breaks down quickly into natural components after use.
Over time exterior surfaces such as decks, patios, driveways and sidewalks can become soiled with a variety of stains which include mold, fungus, mildew, algae, leaf tannins, dirt, grease and oil.
Traditionally, products that use chlorine bleach, oxalic acid, petroleum solvents and phosphates have been used to do the cleaning and stain removal. While these products can be effective, they also can be very harmful to the environment, plants, grass, flowers and humans.
Highlights
Safe & non-toxic
Uses the power of OXY-Boost™
Won't harm plants, grass and flowers
Removes algae, mold & mildew
Restores surfaces to their natural color
Removes sun faded layers
Read more on PROx Deck and Patio Cleaner....
---
From Organic Cleaning Products to Organic Cleaning
Label on Oxygen Bleach
Uses and Instructions on Oxygen Bleach