Best Acai Berry Products
The Best Acai Berry Products
Other Useful & Related Items
JUST CAME IN - NEW! The company "PERFECT ACAI" now has the acai berry in pure powder form - called PERFECT ACAI POWDER.
Scoop It, Mix It and Drink It - PERFECT ACAI POWDER - The Purest Organic Acai Berry in a scoopable jar, 95 grams. A very convenient way to TAKE IT ANY WHERE YOU WANT AND MIX IT WITH WATER. Learn more about here.
1) Our #1 pick is Perfect Acai™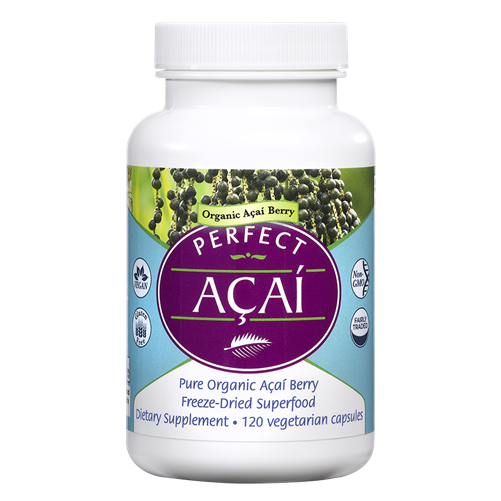 Why is Perfect Acai™ our Best Acai Berry Products?

Perfect Acai Information and Ordering

Why is Perfect Acai™ our Best Acai Berry Products?
Because of some of the questions asked below:
When looking at Perfect Acai™ Supplement we ask that you ask these questions:
Does it use 100% Pure EarthFruits Organic Freeze Dried Acai?
Does it use Veggie Capsules?
Does it provide 120 capsules, with 500mg of Pure Acai per capsule?
Is the only listed ingredient freeze dried Organic Acai (you don't want to see other ingredients like magnesium stearate, rice, silica, etc)?
Do they offer a 100% Money Back Guarantee - return an empty bottle and get your money back?
Is the Acai Fair Trade and Sustainable?
Is the Acai Certified Organic?
Does the Acai test out an ORAC value of over 50,000 per 100 grams?
And if you answered Yes to any of the above questions for Perfect Acai™, and answered NO to any other acai products then it is not same quality as Perfect Acai.™
Some people look at Perfect Acai™ and think it is expensive, but if you want the best acai berry it is not.
They look around and see that some other Acai supplements are selling for $15.
The problem is "the $15 Acai Supplement" is never made with EarthFruits Freeze Dried Acai. Cheap Acai supplements are often made with Acai Extract (4:1) or Spray Dried Acai.
As we discuss in the "Not all Acai are Equal" article there are many tricks to make cheap and ineffective Acai.
The whole process of freeze drying Acai berries within 24 hours of picking them is expensive.
Perfect Acai supplements are made with EarthFruits 100% Freeze Dried, and 100% Organic.

Who is EarthFruits?

The mission of

EarthFruits

is to protect the Amazon Rainforest and improve the lives of the people living there.

EarthFruits leads the way in providing full potency ingredients, with optimal nutrient content and the highest ORAC values (700/gm) and they are able to freeze the berries within 12 to 18 hours after harvesting.

In addition, EarthFruits is a Fair Trade company - meaning they pay a fair wage to the people of the Amazon, a wage they can live on.
It is not uncommon for EarthFruits to pay twice the market price for Acai to ensure the local growers can live on their wages.
Remember, the idea is to have Acai as a sustainable food source and it is only sustainable if the locals can make a fair living harvesting Acai.
In the end, which is the better deal - a $15 Acai Supplement that has no nutritional value or a $39 Acai Supplement that packs all the nutrition of fresh picked Acai berries?
The above statement is VERY IMPORTANT. I see so many people put out money for something that does not work, for instance, junk, processes foods, no value, but to fill their stomach cheaply, I rather starve. This goes for health supplement as well, such as the best acai berry, you want the quality and value, so it will help you. For example, if I had a product that got rid of my wrinkles and cost me $50 vs. a product that does not do much for my skin, but cost only $10.00 I would undoubtedly go for the product that works, because my $10 would be wasted.
Why is Perfect Acai™ so affordable?
Interestingly, we get this question too. If you know something about Acai, and know the importance of only buying EarthFruits Acai, you may wonder how Perfect Acai™ can be so cheap! Look around in Whole Foods or online and you will see most companies sell 60 capsules of Acai for more than what Perfect Acai sell for 120 capsules.
How does Perfect Best Acai Berry offer such a great price?
They keep things simple.
They buy the Acai direct from EarthFruits.
Put it in capsules, bottle it and label it.
No middle-men.
No multi level marketing.
No extra layers to add costs.
Do not spend much money on advertising. They rely on word of mouth.
With Perfect Acai™ - you are just paying for the Best Acai Berry Products that money can buy - nothing else.
Here is the "price per serving" of the Perfect Acai™ product compared to other popular Acai products:
One serving of Perfect Acai is 2 capsules and there are 120 capsules in a bottle. One bottle is $39.95 and if you buy 3 bottles the price drops down to $29.95 a bottle. One serving of Perfect Acai will cost between 50 and 67 cents.
Compare this to another popular product, MonaVie™ Juice. One bottle of Monavie juice is 25.35 ounces and cost about $45. One serving is 2 ounces. The cost per serving of the Monavie juice is about $3.55.
So you can see Perfect Acai is much more cost effective !
Where can I buy this supplement?
Buy this product here!
The Best Acai Berry and Its Co-Products
Still, there are many companies out there claiming to have organic, freeze dried quality Acai. While these companies make grand claims on their website, can they claim any of the following?:
Featured in the New York Times?
Featured in the Wall Street Journal?
Featured in Sports Illustrated, Vogue, Bon Appetit, Business 2.0, Gourmet - not to mention ABC News, NBC News and many local news programs?
Won the Secretary of State's 2006 Award for Corporate Excellence (ACE)?
Has been praised by Secretary of State Condoleezza Rice?
Selected by Dr. Perricone as the premier source for purchasing acai?
One of the Best Acai Berry Products in the World
If you find a company that can make all of the above claims, and it not called EarthFruits, the company will send you a free year supply of Perfect Acai! This is how confident they are about their products.
While others may make big claims, EarthFruits is the only company that can lay claim to all the above statements.
What if despite everything you say I still don't like the Perfect Acai™?
Just return it and get your money back. Unlike many of our competitors, they offer a full money back guarantee. Try a bottle of Perfect Acai™, if you are not happy just return the empty bottle for a full refund (only shipping is non-refundable). Simply put, if you are not happy - we are not happy.
Look closely at our competitors "money back guarantee". The fine print will often explain "only unopened bottles may be returned". Some also charge a 20% restocking fees. In our opinion, if you are selling a quality Acai supplement you should have no problem offering a real money back guarantee.
Recap:
We know you have many choices when it comes to Acai supplements.
With Perfect Acai™ you get a product that is made with 100% Pure EarthFruits Organic Freeze Dried Acai and nothing else.
Perfect Acai™ does not engage in splashy and expensive ad campaigns, so the price for the best Acai Berry is very reasonable.
If you are interested in trying Acai, we hope you will try the BEST acai berry - Perfect Acai™.
Special Sale! Buy PERFECT ACAI™ For Less! Order 3 bottles and the price drops to just $29.95 a bottle. Keep in mind these are 120 capsule bottles (most only have 60 capsules). Just link on the "View Quantity Discounts".
=======================================================
Suggested Use:
Shake well before use. Refrigerate after opening. Take 1 ounce (2 tablespoons) daily and consume within 35 days after opening.
You can also add it to your favorite recipe or health shake. Use your imagination, the creations are endless.


Best Acai Berry Products!! Best Acai Berry Products!!
The Best Acai Berry Products